Book Review Submission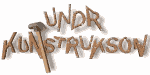 As soon as I can get FrontPage 2000 to work as advertised, please save your reviews and check back periodically. We really want your input, especially if you have read a fine book we have missed of discovered a real stinker to be avoided.
Thank your for your patience.
Ken Smith
[Return to Categories]

[Return to Main Menu]