The Raiders - Ojai's Rock & Roll Band of the 60's
Click on any image to see full size.
Right-click on the full size image to download and save.
(I apologize for name spelling errors)
I am still looking for the original picture shown in the Senior Yearbook

The Pre-Raiders - Paul Medina on piano, Tom Mills standing behind (great on piano and drums), and Ken Smith in the foreground on guitar. Taken in the Matilaha Junior High School cafeteria circa 1959.

The very early Raiders (actually called the Royals at the time). Taken at the Nordhoff Junior Prom circa 1961. Pictured are: back row left to right; Henry Baugh (vocalist), Paul Medina (Vocalist and sax), Mike Cromer (sax), and Danny Cole (Drums); middle; Caren Olsen (vocalist) and Cheryl Waycasey (vocalist); Kneeling; Kenny Smith (lead guitar) and Danny O'Donnell (rhythm guitar).

The Raiders circa 1963. Pictured left to right are; Paul Medina (sax, vocals, and piano), Chip Ireys (bass guitar), Bobby Jones (lead and rhythm guitar), and Kenny Smith (lead and rhythm guitar). Kneeling is Danny Cole (drums).

The Raiders in the same photo shoot as above in their red jackets.

Danny Arnoth on the bass laying it down at the Boyd Club circa 1963.

Danny Cole on the drums driving the beat at the Boyd Club circa 1963.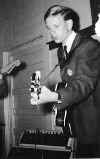 Danny O'Donnell at the Boyd club punching out chords, circa 1963.

Paul Medina and Kenny Smith probably playing Tequila at the Boyd Club circa 1963.
The Raiders played again at the Great Dig at Seoul Park in 2000 for the Junior High 40th Reunion. We had a great time and thank the Nordhoff Class of '63 for bringing us back together. A special thanks to Dennis Vaglica who tragically died in March 2001. We will miss you Dennis.


Danny O'Donnell, Danny Cole, and Kenny Smith after the gig. After a 35 year hiatus and only few hours of practice, we managed to play "Walk, Don't Run", "Rumble", "Pipeline", "Sleepwalk", "Apache", "Perfidia", "Rawhide", "Wipeout", and "Johnny B. Good". We missed Danny Arnoth and hope that he can be with us if we ever do it again.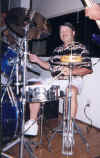 Danny Cole still plays like the pro he always was.

Danny O'Donnell is still one of the best rhythm guitarists around and pretty darn good on lead when he wants to be.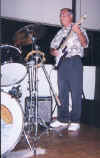 Myself, Ken Smith, managed to stumble through the songs without too many gaffs.